Team Leaders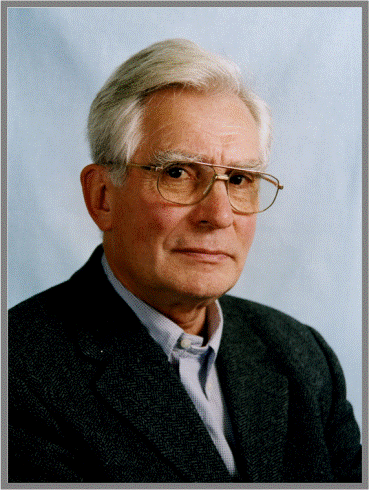 Alexander Yu. Bilibin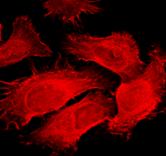 Doctor of Chemical Sciencies, Professor, Head of Department of Macromolecular Compounds
E-mail: This email address is being protected from spambots. You need JavaScript enabled to view it.
Research Areas:
• Polymeric materials for tissue engineering and cell cultivation, such as the formation of dermal equivalent (artificial skin) for substitution treatment of extensive wounds and burns.
• Development of formation of micro-and nanoparticles to create on their basis prolonged forms of drugs.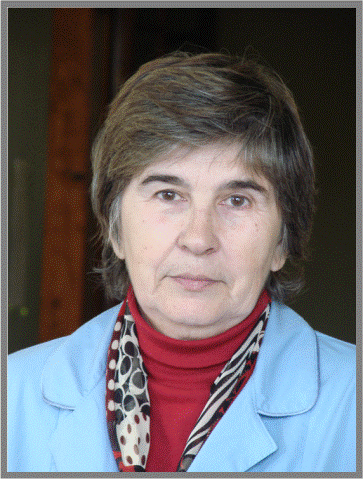 Nina S. Domnina
Ph.D, Associated Professor
E-mail:This email address is being protected from spambots. You need JavaScript enabled to view it.
Research Areas:
• Polymeric forms of biologically active substances, which are used as anti-oxidants, as well as compounds with bactericidal or fungicidal properties.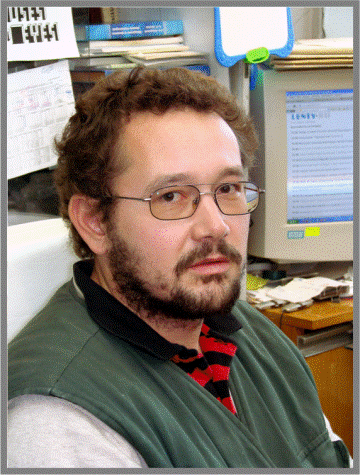 Ivan Mikhailovich Zorin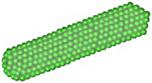 Ph.D, Associated Professor
E-mail: This email address is being protected from spambots. You need JavaScript enabled to view it.
Research Areas:
· Development of methods of forming of nanostructured polymer systems from the layer-organized nanoparticles to controlled hydrogels using various types of chemical interactions (covalent, ionic, hydrophobic, etc.) capable to reversible adsorption of biologically active substances and medicaments.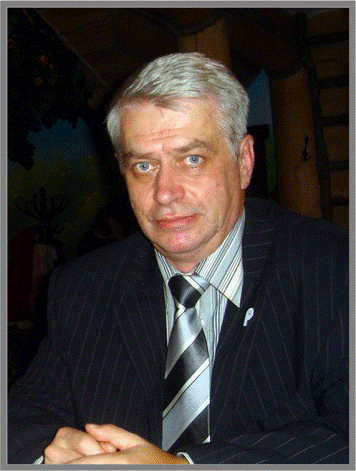 Andreii V. Ten'kovtsev
Doctor of Chemical Sciencies, Professor
E-mail: This email address is being protected from spambots. You need JavaScript enabled to view it.
Research Areas:
• Binary and ternary polymer supramolecular complexes of cyclodextrins and calixarenes ionic and ionic-hydrophilic-hydrophobic-type including those containing metal ions and fullerene

• Mechanism of oxidative polymerization of aniline and the influence of reaction conditions on the morphology of polyaniline. Synthesis of nanostructured composites based on polyaniline.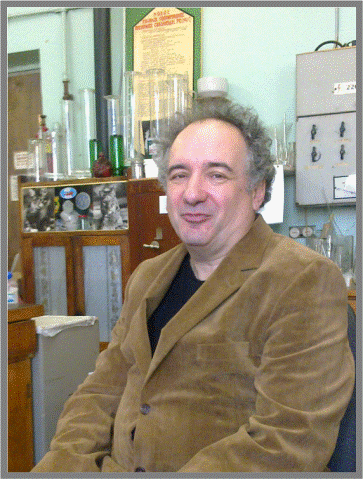 Гойхман Михаил Яковлевич
Doctor of Chemical Sciencies, Professor
E-mail:This email address is being protected from spambots. You need JavaScript enabled to view it.
Research Areas:
· Synthesis and characterization of macromolecular ligands and metal-polymer complexes
Head of the Department
Alexander Yu. Bilibin, Prof., Dr. Sci.
Address: Department of High-Molecular Compounds Chemistry (BMC), Universitetskii pr. 26,
Petrodvorets, Saint-Petersburg, 198504, Russia
Room 3219
Phone: +7 (812) 428 68 48
e-mail: This email address is being protected from spambots. You need JavaScript enabled to view it.
Staff
Mikhail Ya. Goykhman, Prof., Dr. Sci.
Andrey V. Tenkovtsev, Prof., Dr. Sci.
Nina S. Domnina, Associated Prof., PhD
Galina G. Egorova, Associated Prof., PhD
Nina V. Girbasova, Associated Prof., PhD
Olga S. Sokolova, Associated Prof., PhD
Alexander F. Shelikh, Associated Prof., PhD
Ivan M. Zorin, Associated Prof., PhD
Evgeniy A. Antonov, PhD
Irina I. Migunova, PhD
Nadezhda A. Zorina, PhD
Tanyana V. Borzhova
Oleg N. Brevnov
Irina Yu. Kerbunova
Elena A. Komarova
Ivan A. Makarov
Olga Yu. Sergeeva
Tatyana M. Shcherbinina
Petr S. Vlasov
History
In 1928, the Laboratory of Synthetic Rubber was founded at the Leningrad University by famous academician Sergey V. Lebedev who invented the first industrial synthetic rubber production process. In 1944 the Laboratory received the status of sub-department (chair) of Chemical Faculty.
Professors S.N. Danilov, A.I. Yakubchik, B.I. Tikhomirov, V.S. Ivanov and A.Yu. Bilibin (since 1990) headed the Department.
Education
In the last ten years (2004 - 2013) teaching staff of the Department graduated 100 highly educated chemists (specialists, bachelors and masters of chemistry). Nine PhDs and one Professor of Science defended theses and received their degree as the result of research work during the decade. Professors of the Section deliver a set of lectures on different branches of polymer science. Besides auditorium activity, students have laboratory practice and make scientific research projects.
Common courses
Chemistry of macromolecular compounds (for all students of the Chemistry Department)
Chemistry and physics of macromolecular compounds
Theoretical bases of chemical technology
Functional properties of polymers
Polymer and composite materials
Special courses
Polymer solutions
Physical-chemical methods for polymer investigation
Polymer synthesis
Basics of physical chemistry of polymers
NMR spectroscopy in chemistry
Chemistry of polymers
Radiation and photochemistry of polymers
Separation and purification methods
Synthesis and chemical transformations of polymers
Chemical material science
Theoretical base of organic chemistry
Courses for master students
Polymer synthesis
Synthesis and chemical transformation of polymers
Radiation and photochemistry of polymers
Methods for polymer investigation (practicum)
Polymers for biology and medicin
Chemical material science
Aging and stabilization of polymers
Industrial methods of polymer manufacturing
Untraditional methods of polymer synthesis
Research
The most of departments' researchers are involved in interdisciplinary projects. Apart from polymer chemistry and physics, they do applied studies allied to biology, medicine, engineering, colloid and physical chemistry. The current fields of research include:
Polymer immobilized bioactive compounds (e.g. antioxidants) for cardio surgery, fungicide and bactericide for plant protecting systems etc.
Biocompatible and biodegradable polymer materials for drug delivery systems, cell cultivation for tissue engineering, wound protecting agents etc.
Nanostructured polymer systems: layer structured nanoparticles, stimuli responsive gels, polyelectrolyte surfactant complexes and other systems based on various chemical interactions (covalent, hydrophobic, ionic etc.).
Methods and Equipment
AFM (Veeco Nanoscope V)
GPC/SEC (Shimadzu LC-20)
UV-Vis (Shimadzu UV-1700 & UV-1800)
Material Mechanical Properties (Shimadzu EZ-Test)
Measurements of solution viscosity and conductivity
Besides, researchers and students are granted access to the brand-new instruments located in Resource Centers of SPbU (NMR, thermal methods – DSC, TGA, TVA, Electronic microscopy and many others).
Recent Publications
Andreeva, L.N., Shcherbinina, T.M., Zorin, I.M., Bezrukova, M.A., Bushin, S.V., Bilibin, A.Yu. – Molecular, conformational, and optical characteristics of poly(dodecylammonium-2-acrylamido-2-methylpropanesulfonate) in organic solvents // Polymer Science - Series A 2013 V. 55 (5) , pp. 289-294
Bilibin, A.Yu., Sukhanova, T.M., Kondratenko, Yu.A., Zorin, I.M. – N-Alkyl ammonium 2-acrylamido-2-methylpropanesulfonates: Synthesis, properties, and polymerization // Polymer Science - Series B 2013 V. 55 (1-2), pp. 22-30
Bilibin, A.Y., Sukhanova, T.M., Matuschkin, N.I., Mel'Nikov, A.B., Zorin, I.M. – Polymerization of dodecylammonium-2-acrylamido-2-methylpropane sulfonate in solvents with different dielectric constants and study of the resulting ionic complexes // Macromolecular Symposia 2012 V. 317-318 (1), pp. 160-168
Yazhgur, P.A., Akent'Ev, A.V., Bilibin, A.Yu., Zorin, I.M., Noskov, B.A. – Dynamic surface properties of sodium N-acryloyl-11-amimoundecanoate and poly(sodium N-acryloyl-11-aminoundecanoate) // Colloid Journal 2012, V. 74 (6), pp. 743-750
Vlasov, P.S., Sergeeva, O.Yu., Domnina, N.S., Chukicheva, I.Yu., Buravlev, E.V., Kuchin, A.V. – Macromolecular antioxidants based on polysaccharides and 2,6-diisobornyl-4-methylphenol derivatives // Chemistry of Natural Compounds 2012 V. 48 (4), pp. 531-534
Pinaev, G.P., Shved, Yu.A., Kukhareva, L.V., Blinova, M.I., Bilibin, A.Yu., Zorin, I.M., Goryukhina, O.A. – Method for preparation of resorbable polylactide matrix for cell cultivation and implantation intended for wound healing // Patent of Russian Federation N 2464987 (07.04.2011)
Filippov, S.K., Porsch, B., Sergeeva, O.Yu., Olifirenko, A.S., Lesnichin, S.B., Domnina, N.S., Komarova, E.A., Lezov, A.V., Gamarus, V.M., Walterova, Z., Štepanek, P. – Molecular properties of hybrid macromolecular antioxidants: Dextran hydrophobically modified by sterically hindered phenols // European Physical Journal E 2011, V. 34 (11), art. no. 123