Department of Physical chemistry
Ionometry group
General Fields of Research Projects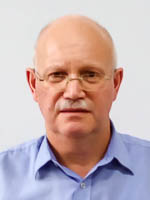 The research in the Group is focused on electrochemical and optical ion sensors utilizing different signal transduction mechanisms: potentiometry, voltammetry, change of color, luminescence, IR and Raman spectrometry, SERS. As sensor agents studied and used in the research, ionophores predominate. The Group also has experience in other fields of sensorics: amperometric and nanowire-based resistometric sensors. The research focuses on the state-of-the-art concepts of sensorics, on the development of novel sensing principles and operation mechanisms for sensors to drastically broaden their application areas.
Research Projects
Ion-selective electrodes (ISEs)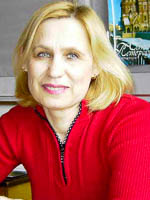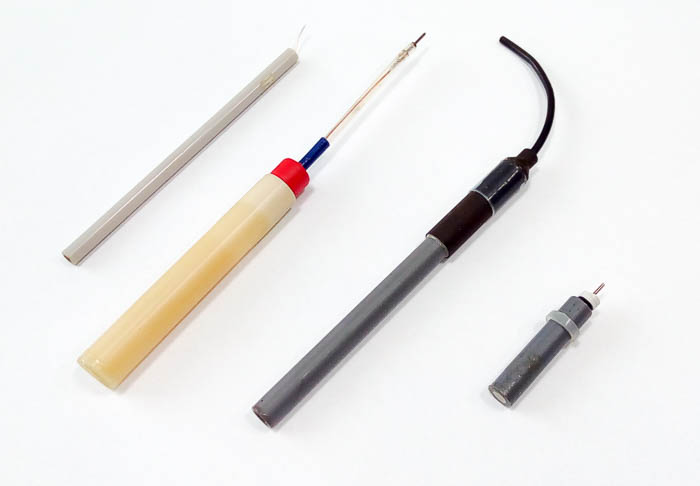 ISEs, ionophore-based potentiometric sensors are known since 1960-s, and are routinely applied in clinical analysis, in different fields of industry and agriculture, in environmental monitoring and in science. In the field of ISEs the group has a priority in the development of a novel approach to measurements with these sensors: tuned galvanostatic polarization. This allowed for a drastic improvement of the ISEs work span: from conventional 10−5 – 10‑1mol/l to 10−10– 1 mol/l, with linear Nernstian response over this whole concentration range.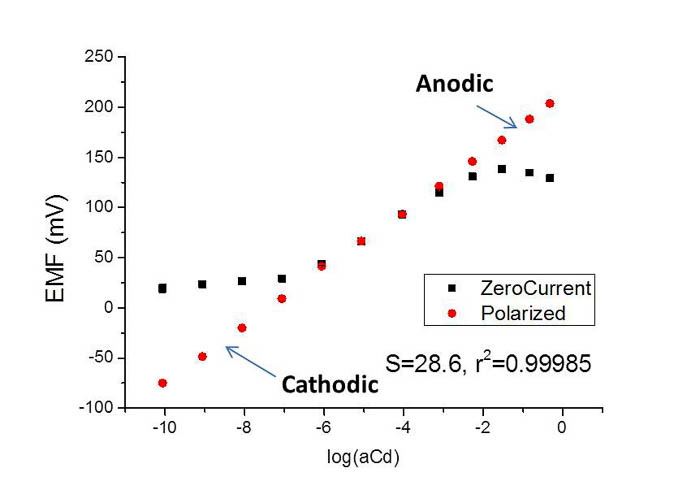 The in-depth theoretical and experimental studies of ISEs (chronopotentiometry, electrochemical impedance spectroscopy) allowed, for the first time, explaining the origin of the deviations of the real-world ISEs response slope from the theoretical Nernstian value. Earlier in the group a method was proposed for the quantification of the species interactions in sensor membranes: the segmented sandwich membrane potentiometry. Current fundamental research is focused on the peculiar regularities of the ISE membrane bulk resistances and on the possibility of the use of ISEs in voltammetric mode.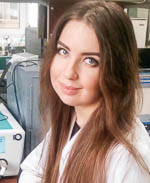 Polymeric plasticizers for the ISE membranes are studied as alternative for traditional low-molecular weight compounds in order to increase the life time of the sensors. The ultimate goal of the current practically-oriented studies is to help medical doctors revealing the origin of calcination of coronary vessels.
Ion-selective optodes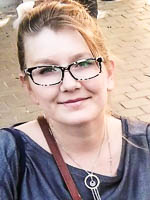 Ion-selective optodes are sensors that convert information about the analyte content in the solution into an optical signal. Low cost, low power consumption, easy registration and interpretation of the signal, as well as low detection limits and wide miniaturization capabilities favorably distinguish ion-selective optodes from electrochemical sensors and more sophisticated analytical equipment. However, known optodes although called "ion optodes", in fact are sensitive to the mean electrolyte activity and can determine either the ratio or the product of the activities of two ions in solution, e.g. pH and Na+. Therefore, the Group aims its research in the area of optodes on the development of optical sensors for measuring individual ion activity. The respective in-depth studies in this field refer to theoretical description of the optode response, in particular at establishing quantitative relations between the sensor composition and its properties by means of computer simulation of the sensor response. It was shown for the first time in the group that it is possible to tune the quantities of the optode components so that the optode response is optimal for a given analytical task.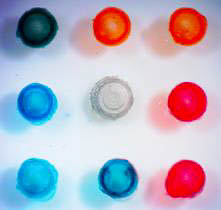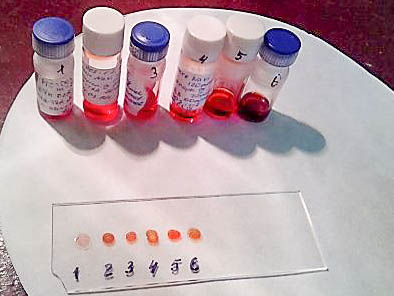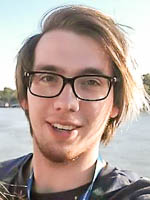 The group is also working on the development and testing of miniature sensing platforms for quantitative rapid detection of the main ions and trace elements in a multi-analyte mode in micro-samples of liquid biological media. Several types of the sensing platforms with conceptually novel sensing zones are being developed. Two ongoing start-up projects implement the findings in this area to create a disposable urine lead-test and disposable sensing cartridge and corresponding software for saliva monitoring.
Microphotographing with the colorimetric and fluorimetric optical sensors is being developed into precise and express alternative for the classical spectrometry for optical signal acquisition. Different methods of the signal processing are being studied such as RGB (red, green, blue) and HSB (hue, saturation, brightness) color spaces; various signal normalization techniques are being tested. Another aim of the research is developing novel color standards in order to substitute the traditional white balance in optode photography.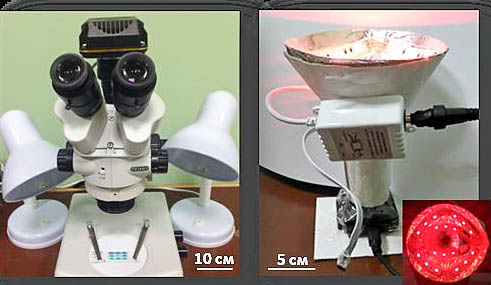 SERS studies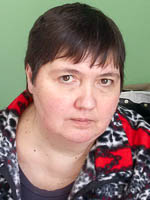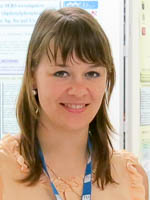 Studies of Surface Enhanced Raman Scattering – SERS, belong to emerging branches of science. Fundamental studies in this field open prospects for practically useful devices: novel kind of optical sensors with enormously low detection limits due to enhancing the signal (Raman spectra) by interaction with the substrate surface. Currently, the group works on (i) the development of new organometallic substrates with "hot spots", and (ii) SERS study of conformational and tautomeric transformations in molecular layers of bioactive compounds adsorbed on nanostructured metal surface.
The development of new substrates with "hot spots"is significant for progress in a number of advanced technologies such as the new generation of devices for recording and storing information, the optical computers and the optical sensory elements for highly sensitive instruments for chemical analysis. The Group works on the development of new class of Ag and Au plasmonic substrates with surfaces modified with photoactive molecular linkers. Such substrates allow for higher efficiency in localization of electromagnetic field, and, as a result – for higher enhancement of optical signal from the molecules immobilized on such substrates.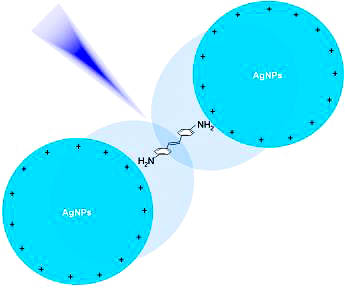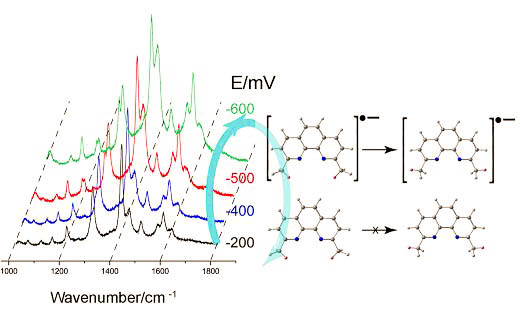 In relation to SERS studies of conformational and tautomeric transformations in molecular layers of bioactive compounds adsorbed on nanostructured metal surface, the objects of the Group's research are bioactive molecules effectively used in clinical therapy. In particular, tautomeric, conformational and acid-basic equilibria in adsorption layers are studied under varying external conditions. The practical output of these studies will be the establishing of optimal conditions for transport and release of the active form for the targeted delivery of medicines based on the use of carrier substrates.
The Group also has experience in voltammetric, amperometric and resistometric sensors (the latter – in co-operation with ForschungszentrumJülich GmbH, Germany). Sensors developed in the Group are suitable for selective dopamine measurements, including in real urine samples.
Group members
Group leader – Konstantin N. Mikhelson, Dr. Sc., professor.
Group members
Anna S. Denisova, Ph.D., assistant professor
Maria A. Peshkova, Ph.D., assistant professor
Elena V. Solovyeva, Ph.D., assistant professor
Galina A. Khripoun, engineer
Andrey V. Kalinichev, Ph.D. student
Nadezhda V. Pokhvishcheva, undergraduate student
YevgeniyaO. Kondratyeva, undergraduate student
Aleksey N. Smirnov, undergraduate student
Olga V. Odintsova, undergraduate student
Publications
Books and book chapters
K.N. Mikhelson, Ion-selective Electrodes (Lecture Notes in Chemistry, Vol. 81) Springer, Heidelberg-New York-Dordrecht-London, 2013. 162 p. ISBN 978-3-642-36885-1; ISBN 978-3-642-36886-8 (eBook); DOI 10.1007/978-3-642-36886-8
K.N. Mikhelson, Computer modeling of the potentiometric response of Ion-selective electrodes with ionophore-based membranes, in Chemical Sensors, Simulation and Modeling, Vol. 5 Electrochemical Sensors, Editor: G. Korotchenkov, Momentum Press, NewYork, 2013, p. 155-199, ISBN 978-1-60650-596-0, DOI: 10.5643/9781606505984/ch5
Regular and review papers
2017
2016
2015
2014
E.V. Solovyeva, L.A. Myund, G.L. Starova, E.M. Dem'yanchuk, A.A. Makarov, A.S. Denisova, X-raysinglecrystal, DFT, IR andRamanstudy of 4,5-bis(N,N-di(2-hydroxyethyl)iminomethyl)acridine (BHIA), Journal of MolecularStructure 1063 (2014) 235–241 DOI:10.1016/j.molstruc.2014.01.067 IF 1.753
P.Ahuja, M.A. Peshkova, B.D. Hemphill, M.Gratzl, Minimizing color interference from biological samples in optode-based measurements, Sensors and Actuators B 204 (2014) 319–325http://dx.doi.org/10.1016/j.snb.2014.07.113">DOI: http://dx.doi.org/10.1016/j.snb.2014.07.113 IF 4.758
2013
N.M. Ivanova, I.V. Podeshvo, M.Ya. Goikhman, A.V. Yakimanskii, K.N. Mikhelson, Potassium-selective Solid Contact Electrodes with Poly(amidoacid) Cu(I) Complex, Electron-ion Exchanging resin and Different Sorts of Carbon Black in the Transducer Layer, Sensors & Actuators B, 186 (2013) 589-596doi.org/10.1016/j.snb.2013.06.072IF 3.840
M.A. Peshkova, K. N. Mikhelson, Solvent polymeric membrane ion-selective electrodes under galvanostatic control: powerful tool for analysis of extremely diluted samples, ElectrochimicaActa, 110 (2013), 829-835 DOI:org/10.1016/j.electacta.2013.03.077IF 4.086
A.E. Stashkova, M.A. Peshkova, K.N. Mikhelson, Sodium interference with the pH-function of Na/pH-selective optode in the physiological concentration range: are optical sensors of individual ions needed?, Herald of St.Petersburg State Univ. Ser. 4 (2013), 46-62.
Important scientific articles published before 2013
M.M. Shultz, O.K. Stefanova, S.B. Mokrov, K.N. Mikhelson, Potentiometric estimation of the stability constants of ion-ionophore complexes in ion-selective membranes by sandwich membrane method: theory, advantages, and limitations, Anal.Chem.74 (2002) 510-517. Citing: 49
K.N. Mikhelson, J. Bobacka, A. Ivaska, A. Lewenstam, M. Bochenska, Selectivity of lithium electrodes: Correlation with ion-ionophore complex stability constants and with interfacial exchange current densities, Anal. Chem. 74(2002) 518-527. Citing: 31
M.A. Peshkova, T. Sokalski, K.N. Mikhelson, A. Lewenstam, Obtaining Nernstian Response of Ca2+-Selective Electrode in a Broad Concentration Range by Tuned Galvanostatic Polarization, Anal. Chem. 80 (2008)9181-9187. Citing: 27
Patents
M. Peshkova, A. Krikorian, S. Nair, P. Ahuja, M. Gratzl, In Vitro Point-of-Care Sensor and Method of Use, 2014, US Patent US8790591 B2
K.N. Mikhelson, I.S. Muratova, Flow-through multisensoric potentiometric cell for the analysis of liquid samples in small volumes, 2014, Russian Patent RF 2537094