The SPIE society (Society of Photo-Optical Instrumentation Engineers) officially notified students group of SPSU about their admission to the SPIE Student Chapter. From now on, SPIE students have an opportunity to develop their research work in the field of optics and photonics, to participate in community programs and social events, as well as to organize independently various conferences and summer schools in order to attract young researchers. Communication and information exchange among SPIE student departments provide resources and network in the field of professional activities, which helps to achieve even greater success. The efforts of SPIE community students along with scientists are aimed at developing new technologies based on the material-radiation interaction.
If your research interests are related to optical research methods, we are glad to invite you to be a member of the friendly team of SPSU SPIE Student Chapter.
The team already discusses ideas about organizing local conferences, conducting interesting scientific lectures by visiting professors and creating a summer school of young scientists through the support of the international community SPIE, as well as co-financing, which is now in search of the participants of the Chapter.
Follow the news on the website of the Institute of Chemistry. Also you can explore more details about the activities of the SPIE community on the website www.spie.org
Contacts
Alexandra Proklova, student af the Institute of Chemistry — Officer of the Chapter,

This email address is being protected from spambots. You need JavaScript enabled to view it.

Ilia Tumkin, Ph.D., Senior Lecturer at the Institute of Chemistry — Senior Advisor of the Chapter,

This email address is being protected from spambots. You need JavaScript enabled to view it.

Elena Solovyeva, Ph.D., Associate Professor at the Institute of Chemistry — Scientific Mentor,

This email address is being protected from spambots. You need JavaScript enabled to view it.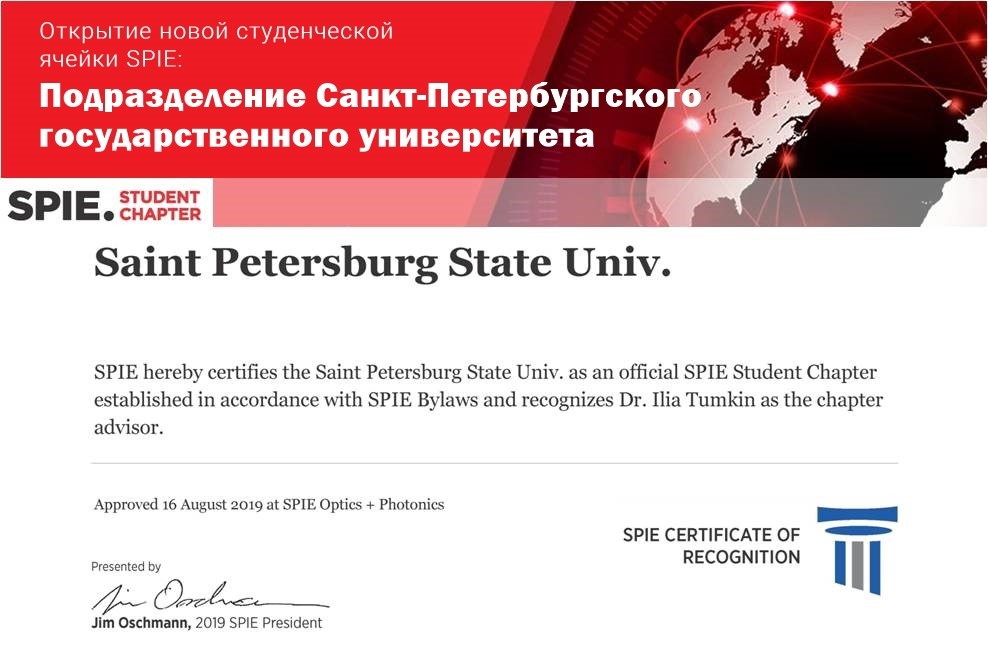 The joint work of the Department of Laser Chemistry and Analytical Chemistry was published in the journal Chemical Communications.
In this paper, the authors for the first time showed the possibility of laser deposition of copper on dielectric substrates with the use of new solvents — deep eutectic solvents. This allowed more than 150 times to increase the deposition rate and significantly simplify the procedure.
A team of researchers led by the Head of Laboratory for Chemical Pharmacology Professor Mikhail Krasavin received funding support under the 7th EU framework program "ERA.Net RUS Plus". In 2018-2019, jointly with researchers from Latvia (Latvian Institute of Organic Synthesis, team leader – Raivis Žalubovskis) and Serbia (University of Belgrade, team leader – Milica Pešič), the chemists from Saint Petersburg State University will work on THIOREDIN project aimed at the discovery of new effective inhibitors of thioredoxin reductase. This enzyme has received very little attention as potential drug target despite the fact that recent research has clearly demonstrated that inhibition of this enzyme leas to selective death of cancer cells and does not affect normal cells.
Cancer – a leading cause of mortality and morbidity. The search for new so-called target therapies has enormous importance. Altogether, the ERA.Net RUS Plus program committee considered over 200 grant applications from Russian researchers and their European partners. The project from SPbSU was among 28 projects that received support. A total program budget is 11 million euro. On March 27th, 2018 the three teams met in Belgrade, Serbia to start the project and agree on project plan and communication.