Mikhail V. Il'in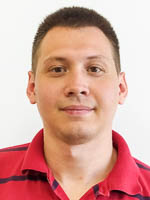 PhD student

Department of Physical Organic Chemistry
rooms # 3186, 3193

This email address is being protected from spambots. You need JavaScript enabled to view it.

Resarch group: Noncovalent Organocatalysis

Hirsch index: 6

ORCID: 0000-0003-4234-4779
ResearcherID: A-7287-2017
Scopus ID: 57191587387

Total citations (Scopus): 100+ (March 2023)
CV
Mikhail V. Il'in was born in 1995 in Novocheboksarsk, Chuvash Republic. In 2013 he was accepted to Institute of Chemistry SPSU. Under the scientific supervision of Prof. D.S. Bolotin, he successfully defended his bachelor's thesis in 2017, master thesis in 2019 and PhD thesis in 2023 (ahead of schedule).
Scientific Interests
Chemistry of heterocyclic compounds, organoelement chemistry, coordination chemistry, catalysis, physical organic chemistry.
Awards and Prizes
Higher State Academic Scholarship, 2018/19 academic years
Personal scholarship of Analit -Shimadzu, 2022/23 academic year
Scholarship of the Government of the Russian Federation, 2022/23 academic year