Department of Macromolecular Compounds Chemistry
Albumins as carriers of luminescent compounds
Research
Albumins (e.g. human serum albumin, HSA) are perspective carriers of various hydrophobic compounds, in particular, of phosphorescent organometallic compounds.
In collaboration with Prof. Tunik's group (chair of General and Inorganic chemistry), we have developed HSA-based noncovalent adducts with polynuclear copper subgroup metal clusters [1,2], as well as covalent conjugates with platinum complexes.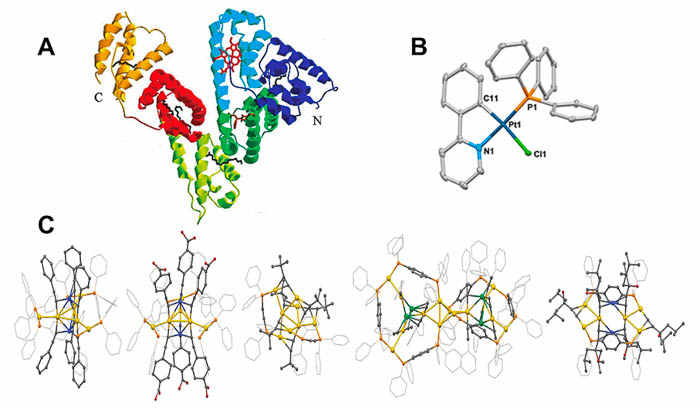 Figure 1. Structures of HSA (А), polynuclear copper subgroup metal clusters (В), and Pt complex (С), used in the work.
We have shown that interaction with HSA leads to conservation [1,2] and, in some cases, to ignition [3] of luminescence of organometallic compounds. The resulting luminescent constructions are applicable for bioimaging, including advanced visualization techniques such as time-gating [1], two-photon microscopy [2], phosphorescence lifetime imaging (PLIM) [3].
Publications
Chelushkin, P. S., Krupenya, D. V., Tseng, Y. J., Kuo, T. Y., Chou, P. T., Koshevoy, I. O., ... & Tunik, S. P. (2013). Water-soluble noncovalent adducts of the heterometallic copper subgroup complexes and human serum albumin with remarkable luminescent properties. Chemical Communications, 50(7), 849-851.
Chelushkin, P. S., Nukolova, N. V., Melnikov, A. S., Serdobintsev, P. Y., Melnikov, P. A., Krupenya, D. V., ... & Tunik, S. P. (2015). HSA-based phosphorescent probe for two-photon in vitro visualization. Journal of inorganic biochemistry, 149, 108-111.
Solomatina, A. I., Chelushkin, P. S., Krupenya, D. V., Podkorytov, I. S., Artamonova, T. O., Sizov, V. V., ... & Tunik, S. P. (2016). Coordination to Imidazole Ring Switches on Phosphorescence of Platinum Cyclometalated Complexes: The Route to Selective Labeling of Peptides and Proteins via Histidine Residues. Bioconjugate chemistry, 28(2), 426-437.