Team Leaders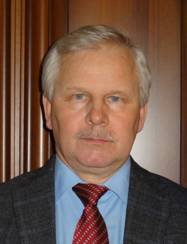 Doctor of Chemical Sciences, Professor,
Acting Head of the Department of Electrochemistry
Veniamin V. Kondratyev
e-mail :This email address is being protected from spambots. You need JavaScript enabled to view it.
Research areas:
- Charge transfer processes in films of electroactive polymers
- Chemically modified electrodes
- The design of hybrid electrode materials for supercapacitors, fuel cells and sensors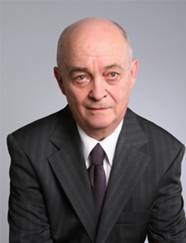 Doctor of Chemical Sciences, Professor
Valeriy V. Malev
e-mail: This email address is being protected from spambots. You need JavaScript enabled to view it.
Research areas:
- The theory of charge transfer processes in materials with mixed electronic-ionic conductivity
- Chemically modified electrodes
- Biosensors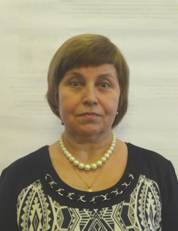 Ph.D., Associate Professor,
Tamara G. Nikiforova
e-mail: This email address is being protected from spambots. You need JavaScript enabled to view it.
Research areas:
- Nanostructured catalysts for fuel cells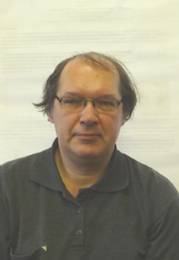 Ph.D., Associate Professor,
Vladimir D. Ivanov
e-mail: This email address is being protected from spambots. You need JavaScript enabled to view it.
Research areas:
- Chemically modified electrodes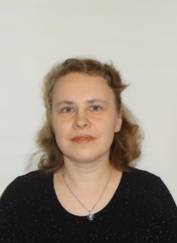 Ph.D., Associate Professor,
Elena G. Tolstopyatova
e-mail: This email address is being protected from spambots. You need JavaScript enabled to view it.
Research areas:
- Chemically modified electrodes, sensors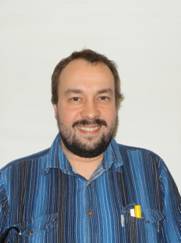 Ph.D., Associate Professor,
Oleg V. Levin
e-mail: This email address is being protected from spambots. You need JavaScript enabled to view it.
Research areas:
- Charge transfer processes in polymer films of metal complexes with Schiff bases
- Dual-layer and hybrid supercapacitors
Head of Electrochemistry Department
Veniamin V. Kondratiev
Professor, Dr.Sci.
Phone/Fax 007 (812) 4286900
E-mail: This email address is being protected from spambots. You need JavaScript enabled to view it.
General information
The research activity of the Department of Electrochemistry is related to such applied topics, as metal- composite materials, electrochemical capacitors, fuel cell elements and enzyme-based biological sensors. As to the fundamental side of the department research, it is achieved due to performing development of adequate models of charge transfer in materials with mixed electronic and ionic conductivities. This creates some basis, which makes it possible to develop new methods for studies and design of the materials in question.
History
The Department of Electrochemistry of Saint-Petersburg State University was founded by Prof. Rudolf L. Muller in 1940. After the Second World War the department was leaded by Profs. Boris P. Nicolsky (1950), and Alexey V.Storonkin (1951-1952). Prof. Yaroslav V. Durdin have been a chairman during subsequent twenty years (1952 – 1973). His research intersts were mainly focused on the kinetics of hydrogen evolution from acidic solutions. During the next twenty years (1973 – 1994) the department had been headed by Prof. Valery I. Kravtsov. In this period, the main attention in the department research was paid to electrode processes involving metal complexes with different ligands. Prof. Valery V. Malev was the head of the Electrochemistry Department during 1994-2013. At this time the experimental and theoretical work was focused on the study of charge transfer processes at chemically modified electrodes.
Department personalities
Professor Veniamin V. Kondratiev became the head of the Department of Electrochemistry in 2013. His research interests are Electrochemistry, Spectroelectrochemistry, Redox and Conducting Polymers, Nanocomposite Materials, Metal Nanoparticles, Multilayered Coatings, Material Technology, and Sensors.
Prof. V. Kondratiev reads a series of lections in electrochemistry and has a great experience in design, preparation, and characterization of new multifunctional pristine and nanocomposite polymer coatings that might be used for different applications. During the recent years his research interests have been focused on syntheses of conducting polymer films and metal-containing ones, which can be used for electrocatalytical, energy saving, and electroanalytical purposes. The polymer modification strategies used can lead to a variety of such desirable effects, as three-dimensional dispersion of redox mediators within modifying films, fast catalytic responses of the developed electrodes due to improving the transport properties of covering films, resulted from a close proximity of the included metal particles and conducting sites of a polymer lattice, and high mechanical and chemical stability of the modifying inclusions within the film matrix. The main results of these investigations are reflected in references [8, 12-19] given below.
Professor Valery V. Malev
Prof. V. Malev reads four cycles of lections destined for students of the Chemical faculty, namely Electrochemistry (students of the 3-rd course), Electrochemical Methods (students of the 4-th course of the physical chemistry profile), Modified Electrodes, and Electrochemistry of Membranes (both cycles for students specializing in electrochemistry). He carries out a common guidance of scientific research performed by his department colleagues and guides post-graduate studies. He is a permanent coordinator and researcher of grants supported by the Russian Foundation for Basic Research and the Saint Petersburg University, and an author of numerous papers (more than 150) published in peer-reviewed journals. His most important publications devoted to migration currents and double layer structural effects (refs. [1-3]), modeling of biological and artificial membranes (refs. [4-6]), charge transfer processes on electrodes modified with electroactive polymer films (refs. [7-11]) are given below. Experimental and theoretical results obtained along the last topic are summarized in monograph "Polymer-Modified Electrodes" (V.V. Malev, V.V. Kondratiev, A.M. Timonov, "Nestor-History", SPb, 2012).
Valery I. Kravtsov
Prof. V. Kravtsov reads lecture courses concerning the electrochemistry of metal complexes for bachelor and master students. His preceding research works are summarized in monographs "Electrode processes in solutions of metal complexes" (LGU, Leningrad, 1969) and "Equilibrium and kinetics of metal complexes electrode processes" (Khimia, L., 1985).
Associated professors
Vladimir D. Ivanov
Ass. Prof. V. Ivanov is responsible for special courses for master students.
Oleg V. Levin
Ass. Prof. O. Levin became a permanent member of the department in 2010 after his work as a researcher in Li-ion Battery Department of Samsung SDI Company, South Korea. His research interests are connected with electrochemical power sources and polymeric metal complexes.
The projects carried out in his group are devoted to studies of activated carbon materials for double layer capacitors and polymeric materials for hybrid faradaic-double layer capacitors. The fundamental significance of such research is determined with elucidation of charge transfer mechanisms within the films possessing a mixed redox and conjugated conductivity [9-11, 20-22].
He reads lections on Electrochemistry for bachelor students and Electrode materials for lithium-ion batteries for master students, conducts laboratory works with students mastered the course of Electrochemistry, and leads the students' diploma projects.
Ass. Prof. Tamara G. Nikiforova
The research interests of Ass. Prof. T. Nikiforova are now connected with new catalysts for the alcohols'electrooxidation processes in fuel cells. She reads special courses of lections for bachelor and master students.
Elena G. Tolstopyatova
Ass. Prof. E. Tolstopyatova also provides laboratory works of students and is the main researcher of Prof.Kondratiev's group.
Main Publications of the department
V. Malev, Ya. Durdin // Limiting currents on a rotating disc electrode as a function of the supporting electrolyte concentration, Elektrokhimia 2(1966) #11, 1334-1338 (in Russian).
V. Kondratiev, E. Nestorovich, V. Malev // Kinetics of electroreduction of tris-oxalate cobalt(III) complexes on the dropping mercury electrode, J. Electroanalyt. Chem., 450 (1998) 109-119.
R. Astakhova, S. Balushkina, I. Savvy, V. Malev // Double layer effects in the electrode kinetics of quasi-equilibrium redox reactions, Electrochim. A., 44 (1998) 967-975.
V. Malev and A. Rusanov //Thermodynamics, Mechanical and Electrical Properties of Biomembranes, J. theor.Biol. 136 (1989) 295-307.
V. Malev, D. Gromov, Ya. Komissarchik, and M. Brudnaya // Interfacial models of nerve fiber cytoskeleton,Biophys. J., 63 (1992) 1101-1117.
V. Malev, O. Ostroumova, J. Takemoto, and L. Schagina // Voltage-dependent ion channels induced by cycliclipodepsipeptides in planar lipid bilayers: Structure, Properties, and Resemblance to Native Channels, chapter III in "Advances in Planar Lipid Bilayers and Liposomes", V. 8, 60-105, Ed. Leutmanova, Elsevier, NY (2008).
V. Malev, A. Rubashkin, M. Vorotyntsev // Eqilibrium properties of the system comprising an electrode modified with electroactive polymeric film and an electrolyte solution, Russ. J. Electrochem., 33 (1997) #8 872-882.
V. Kondratiev, A. Tikhomirova, V. Malev // Study of charge transport processes in Prussian-blue film modified electrodes, Electrochim. A., 45 (1999) 751-759.
V. Malev, O. Levin, M. Vorotyntsev // Model treatment of double layer charging in electroactive polymer films with two kinds of charge carriers, Electrochim. A., 52 (2006) 133-151.
V. Malev, O. Levin // Electrical currents resulting from reduction/oxidation processes of tested particles on electrodes modified with metal-containing polymer films, Electrochim. A., 56 (2011) 3856-3872.
V. Malev, O. Levin // Criteria of the absence of short-range interactions within electroactive polymer films,Electrochim. A., 80 (2012) 426-431.
Evans C.E., Naklicki M.L., Rezvani Ali, White C.A., Kondratiev V.V., Crutchley R.J. //An Investigation of Superexchange in Dinuclear Mixed-Valence Ruthenium Complexes. J.Amer.Chem.Soc.,1998, V.120, P.13096-13103.
Eliseeva S.N., Malev V.V., Kondratiev V.V. // The study of PEDOT-based composite films with inclusion of palladium nanoparticles. Rus.J.Electrochemistry. 2009. V. 45. № 9. P. 1122-1128.
Pogulaichenko N.A., Hui So, Malev V.V., Kondratiev V.V. // Electroless deposition of gold into poly-3,4-ethylendioxithiophene. Rus.J.Electrochemistry. 2009. V. 45. № 10. P. 1267-1274.
Eliseeva S.N., Babkova T.A., Kondratiev V.V. // Mass transfer of ions and solvent during redox-processes into poly-3,4-ethylendioxithiophene films. Rus.J.Electrochemistry. 2009. V. 45. № 3. P. 161-169.
E.G. Tolstopyatova, Pogulaichenko N.A., S.N. Eliseeva, Kondratiev V.V. // Spectroelectrochemical study of poly-3,4-ethylendioxithiophene films in the presence of different electrolytes. Rus.J.Electrochemistry. 2009. V. 45.№ 3. P. 270-281.
V.Malev, V.Kourdakova, V.Kondratiev,V.Zigel // Indium hexacyanoferrate films, voltammetric and impedance characterization. Solid State Ionics. 2004. V. 169, pp. 95-104;
E.G. Tolstopyatova, S.N. Sazonova, V.V. Malev and V.V. Kondratiev // Electrochemical impedance spectroscopy of poly(3-methylthiophene) and poly(3-octylthiophene) film electrodes. Electrochimica Acta, 2005.Volume 50, Issues 7-8, P. 1565-1571.
O. Levin, V. Kondratiev and V. Malev // Charge transfer processes at poly-o-phenylenediamine and poly-o-aminophenol films. Electrochimica Acta, 2005. V.50, Issues 7-8, P. 1573-1585.
V.V. Malev, O.V.Levin, V.V.Kondratiev Voltammetry of electrodes modified with pristine and composite films; thoretical and experimental aspects // Electrochimica Acta, 2014. — Vol. 122, — P. 234-246
V.V. Malev, O.V. Levin, A.M. Timonov Quasi-equilibrium voltammetric curves resulting from the existence of two immobile charge carriers within electroactive polymer films // Electrochimica Acta, 2013. — Vol. 108, — P. 313-320
O.V. Levin, M.P. Karushev, A.M. Timonov, E.V. Alekseeva, Shuanghua Zhang, V.V. Malev Charge transfer processes on electrodes modified by polymer films of metal complexes with Schiff bases // Electrochimica Acta, 2013. — Vol. 109, — P. 153-161